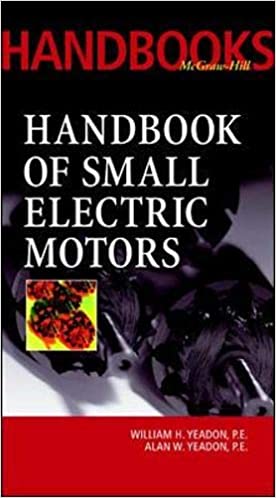 Handbook of Small Electric Motors
by William H. Yeadon (Editor-in-Chief)
Alan W. Yeadon (Associate Editor)
A complete, definitive source for the design, manufacture, application, and testing of small electric motors less than ten horsepower.
Gives motor design engineers, test technicians, and engineers, top-to-bottom coverage of materials used in motor manufacturing, as well as how-to advice on selecting the right design.
Includes a full section on motor applications and assembly methods.
A compendium of expert information on today's designs, methods, and materials. Get up to speed on the latest design and manufacturing tools and techniques with this expert guide from leaders of the motor industry. A superb source of innovative, productivity – and profit-increasing solutions, Handbook of Small Electric Motors gives you more help with selection, calculation, assembly methods, and on-the-spot data than you can find anywhere else.
Information you can use. A complete source for the design, manufacture, and application of electric motors of 10 hp or less. Comprehensive introduction to electric motor basics. Detailed coverage of more than 17 types of motors and drives. Step-by-step calculation methods for design and application of all featured motors, with examples. Best source for applications information. Reference data on materials and manufacturing methods. Key information on small electric motors for appliances, automobiles, computers, business machines, HVAC, power tools, industrial drives, and many other applications.
There's no other source that approaches this unique reference for comprehensive, clear coverage of small motor design, production, and use. For cost-cutting, efficiency-boosting solutions, and the answers you need now, this is a resource that will prove its value every day on the job.